UNSURPASSED AUTOCAD® COMPATIBILITY
ENGINEERED FOR COMMON USE
COMPREHENSIVE

DWG™

EDITING
It can use to open all AUTOCAD® format drawings, which makes switching between these tools effortless.
✓ DWG, AutoCAD® Proprietary binary file
✓ DXF, Drawing Exchange Format
✓ DWT, CAD drawing template
✓ DWS, CAD Drawing standards
✓ DST, Drawing Sheet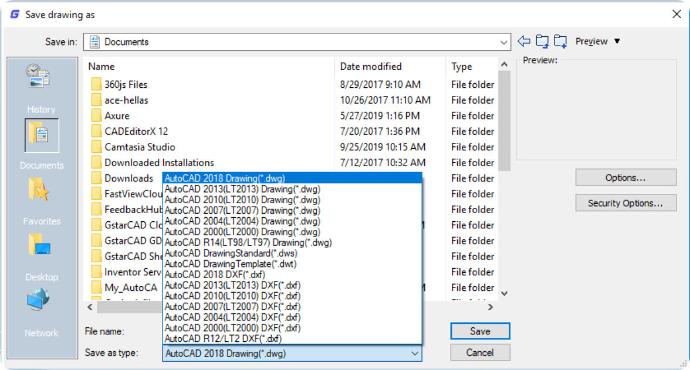 UNSURPASSED COMPATIBILITY
GstarCAD can use all resource files used by the AUTOCAD® platform.
✓ CTB/STB, Plot style
✓ SHX, CAD font
✓ LIN, Line type
✓ PAT, Hatch pattern
✓ SLD, Slide image
✓ UNT, Units setting
✓ CUI/CUIX, Interface file
✓ MNS/MNU, Menu file
✓ PGP, Command aliases
✓ DIM, Dimension style
✓ BAK, Drawing backup

IMPORT & EXPORT FILE
Import and export file formats keep connectivity across the project team involved.
✓ PDF, Portable Document Format.
✓ DGN, Microstation
✓ DWF, Design Web Format
✓ DWFx, Design Web XPS Format*
✓ SAT, ACIS solid modeling
✓ STL, Stereolithography*
✓ 3DS, 3D Studio
✓ BMP, Bitmaps*
✓ WMF, Metalfile
✓ EMF, Enchanced Metalfile*
✓ EPS, Encapsulated PostScript*
✓ DXX, AutoCAD Drawing Interchange Attribute*

* Output only

DGN COMPATIBILITY
Implemented the full DGN files support and related commands such as DGN-import, DGN-attach, DGN-adjust, DGN-mapping, etc.

Now, you can import and attach as underlay a Microstation native format.
EXTERNAL REFERENCES
External References like DWG, DXF, DWFx, DGN, PDF, and raster images can be opened, inserted, and managed from the external reference palette.

When attaching a file as an external reference (XREF), the link referenced drawing to the current drawing.

​
Any changes to the referenced drawing are displayed in the current drawing when it is opened or reloaded.

You can easily add raster images, OLE objects (charts, shapes, tables, or more), windows metafile, and drawing exchange binary.


DWF underlay is similar to attached raster images in that they provide visual content and support object snapping and clipping. However, unlike external references, underlays cannot be bound to the drawing.

You can reference and place a PDF as an underlay in drawing files the same as you do raster image files.

​Furthermore, you can adjust the underlay properties like contrast, fade, monochrome, and colors for the background.

In addition, the latest GstarCAD support the insertion of one page or many pages from the PDF file.

OUTPUT DRAWING, PDF, DATA, AND PRINTING
PLOT TO PDF
DWG TO PDF build-in plotter driver with default vector resolution set at 300 dpi and maximum resolution output up to 2400 dpi.
BLOCK ATTRIBUTE DATA
The newly added EATTEXT command can extract block attribute information and the object's general attribute, for example, the area of circle or square. The operation is easy to use and can extract files in various formats, including XLS.
CAD TO EXCEL
CAD table to excel function is the fast, easy and direct transformation of drawing tables to excel sheets.

PLOT STYLES
A plot style is an object property similar to line type and color. A plot style can be assigned to an object or assigned to a layer. Using plot styles gives you great flexibility because you can set them to override other object properties or turn off the override as needed.

CTB EDITOR
You can add, delete, rename, and copy plot styles in a named plot style table using the plot style table editor.

The plot style table editor also changes plot style settings for both named and color-dependent plot style tables.

BATCH PUBLISH
Publishing an electronic drawing set as a DWF, DWFx, PDF file saves time and increases productivity by providing accurate, compressed representations of drawings in an easy-to-distribute and view file. This also maintains the integrity of your original drawings.

E-TRANSMIT
eTransmit provides a compact way to package a set of files for internet transmission. For example, selecting a set of drawing files in a transmittal package automatically includes all related dependent files such as reference and font files.

DATA SECURITY
Password-Based encryption helps secure drawing data when you collaborate on projects. With a digital signature, you can collaborate more easily with others on projects.

In addition, recipients of drawings are provided with reliable information about who created a set of drawings and whether they were modified since digitally signed.

PROTECT YOUR

CAD DRAWING

TO BE MODIFIED!
EXPRESSTOOLS

DWG CONVERT
Convert one or a bunch of selected drawing files to another DWG version available. The newly generated file can overwrite the original file. It can also be compressed into a self-extracting EXE file or a ZIP file to facilitate batch format conversion of the entire project drawing.
BATCH PURGE
The batch purge tool doesn't need to open files. Instead, it executes the command of purge directly, which makes it run with very high efficiency.
RECOVERY
Drawing recovery manager works as a rescue tool for the important project due to a power surge, the computer restarted, or the program termination unexpectedly.

DRAWING COMPARE
Compare drawing files of a different version to identify the design changes. Colors are used to mark changed objects between old and new drawing files.